His Royal Orangeness Karl Willem and Gromit all dressed up for the premiere of "Wallace & Gromit: The Curse of the Were-Rabbit". Gromit joined Team Karl Willem two years ago....
Went to see some claymation goodness from Aardman Studios which took them 5 years in the making. "Wallace and Gromit" is groundbreaking because rather than depicting canines as dumb (relative to cats), it's Gromit, the dog, who actually keeps the ship afloat. I liked the many classic movie references as well as the dry wit and sarcasm. It reminded me so much of my childhood. It's also a nice touch that they left the finger prints on the clay models.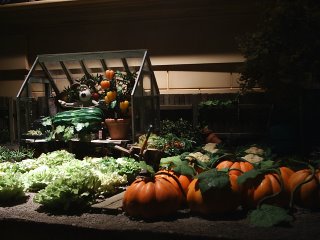 An actual set from the movie which I was fortunate enough to view in London weeks before I saw the movie..
I went to London for the weekend to take a stroll, watch an exhibit at the Science Museum, and to attend a Flipinoy dinner party hosted by Bobi (who is a fashion director at Harrod's. Bobi once sent me out of a room as one of his pretty models was about to try on a corsette. I reasoned that I'm used to female nudity and I didn't mind but he wouldn't hear any of it. It turned out to be for my good as some models have unimaginable B.O. I certainly would have minded!....There, the backstage secrets of the catwalk exposed....). Anywho, abs-frigging-cbn was taking footage of the party and I did my best to stay away from camera range.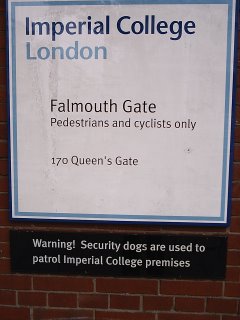 I would like to meet these dogs. Could they be in robocop-like gear? Woof! Woof!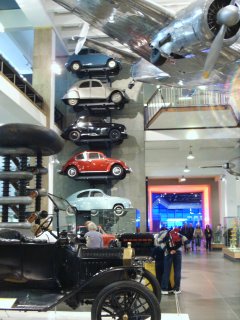 I'm such a geek. I love the Science Museum. In fact, I love that blue Saab car, I might need to reconvene the Nashman's Eleven for another heist......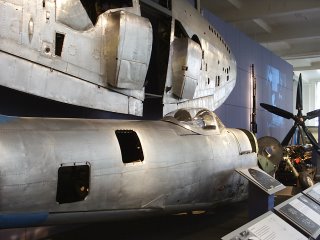 Again, I'm such a geek. (Ok, a normal geek. I do NOT speak Klingon). I came specifically to see the Spitfire exhibit. Perhaps it's an overlooked fact that during WWII, women actually assembled these fine specimens of engineering. (Again, I am NOT hawkish, I like planes for the science that goes into designing them, NOT the bombs they carry...)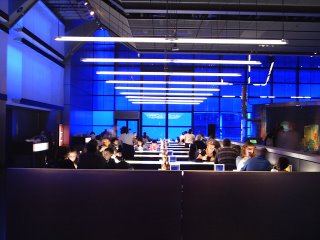 I had lunch at the Deep Blue Cafe. Nice concept, but the backlit tables can actually make you woozy.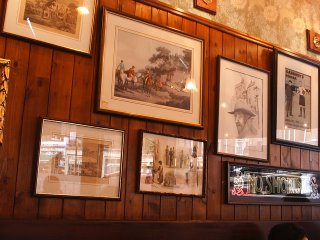 Greenfield's Cafe
Before going to the Flipinoy party, I actually found time to visit South Kensington for afternoon coffee and ensconced myself in a cozy nook at Greenfield's Cafe. Another recipient of HRO Karl Willem's "Best Places to Have Real Coffee". It would have been a great coffee experience except for this girl who sat next to me and kept using the word "like" more than twice in one sentence. (You know, it's like, a surreal experience, like, me enjoying my coffee then, like this girl comes, and like, speaks, like, every sentence, like, ends, like a question?) The cafe noir was good but I can't stand someone, no matter how pretty they are, who can use "like" as an adjective, noun, verb, preposition, interjection, and curse all in one sentence. I might as well have my coffee at the Ateneo or Assumption cafeteria if I wanted to hear such drivel.