I spent the whole morning in the Old Town - visiting the parks, antique bookshops, touristy spots, and cafe-hopping. It seems odd, but I had another craving for middle eastern food and found myself at a cozy hole in the wall where all the locals seemed to twist their necks toward me in unison as I entered. Just my kind of place! In sign language and pidgin french I ordered lamb (or what I think I said was lamb). Halfway through my lunch, the owner set the other half of my table for two girls who just came in. Really strange, as there were other free tables
(I am not making this up).
Well, maybe its a Swiss-French
"Share a seat, win a friend"
sort of thing. It was a surreal lunch as I was updated with the latest 'gossip' on total strangers by people I just met.
I did more walking, cafe-hopping, photography, and people watching in the early afternoon when I realized that the glorious sunshine was too good to waste and off I went to the
Bains des Paquis
(Public "Turkish" Baths) for a tan-slash-siesta. I ordered a cold drink at the bar and sauntered to the boardwalk and I nearly choked on my drink as I bumped into two crinkly lobster-coloured pensioners. Surely when one is 70, a suntan is unecessary? But then again, maybe like raisins, they wanted to be preserved for eternity. But then I tell myself I'm being rude as we are all going to be old eventually and pensioners have as much right to sunbathe naked in public as anyone. For a monday, the baths and boardwalk were packed. "You lazy gits" I mutter as I looked for a half-shaded spot (
how pinoy
!). I did not bring sunblock lotion so I dared not expose my birthday suit
(I have heard horror stories on how the pleasurable parts can easily get sunburned even with the highest rated sunblock).
I played Ruben Gonzalez in my head, did the casual banter with my fellow bathers, complimented the girl next to me on her immaculate tan
("You're very pretty, but with a deeper tan, people will be worshipping the ground you walk on"
- I say this in English as any attempt at french will probably end up in disaster), and fell asleep. I woke up refreshed satisfied that I was a darker shade of brown on both sides.
I was going to spend the night at Licel's new flat so off I went to meet her at the market to get mini-party food. Her new place is located right smack on the red light district. Fortunately it's on the fifth floor with a view of the lake. I must admit it was interesting to get a bird's eye-view of the women of pleasure (mostly blonde) as they plied their trade on the street below. We noticed one who was standing for more than one hour and we prayed that she'd get some business soon as it was getting late and cold. Despite being the oldest profession it is, I imagine, very difficult work with high overhead costs. A sigh of relief came as we saw see a car pull up and she got in.
After the hearty dinner, I was amused to find Jerry Springer on tv. A truly trashy talkshow programme which had a hypnotic effect on me....and as I watched, I had this new huge craving for raisins......
Another early walk. His Royal Orangeness Karl Willem at the Jardin Anglais.
HRO Karl Willem at the Jet d'Eau. A biiiiiiiig fountain ejecting 7 tons of water 140m into the air. As a landmark it's very hard to miss.
HRO Karl Willem takes time to smell the flowers at La Roseraie.
HRO Karl Willem enjoying the sun at the Parc de la Grange.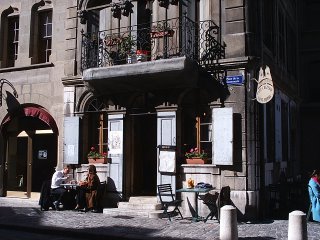 HRO Karl Willem having coffee al fresco at Creperie St. Pierre. Another recipient of "Best Places to Have Real Coffee". It was a great spot to people and dog watch.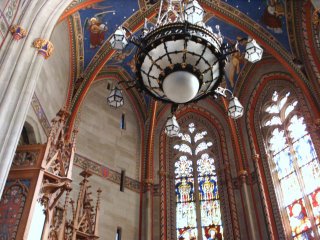 The colourful Chapelle des Machabees. I spent an hour admiring the little details.....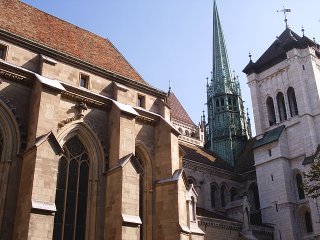 The
Cathedral St. Pierre
. 400 years in the making means it is a Frankenstein of architecture with neoclassical, gothic, and romanesque features.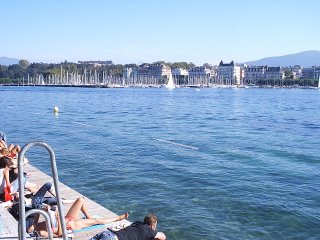 Looking for a sunbathing spot. Real estate was a premium. I had to tell that guy in a black(!) t-shirt and jeans to take a hike. Seriously, what's his point in lying there all dressed up?
Lazy sunny afternoon. The water was just right for dipping. I am gloriously brown again....
It was nice talking to
whatshernameiforgot
while the sun's rays bore down on me. I was asleep most of the time and thank God for dark sunglasses that she couldn't tell. Sadly, after a nice siesta in the sun, it was time to go to the market to see what the hunters brought back.
HRO Karl Willem throws a dinner party at Licel's flat. Did a heart attack-inducing
lechon kawali.
Thankfully, we found some excellent
jamon serrano
,
chorizo de bilbao
, and
manchego
for afterdinner nibbles. It's the good cholesterol party.