We all slept very well that night. The copious amounts of champagne and wine helped a lot. Despite appearances, the more than a century old museum-worthy bed I slept on was very comfy. I was hoping JM's great ancestors would haunt me or make poltergeist-like protestations but no such thing occured. Slight disappointment there.
JM, JM's dad and The Nashman were talking about how it is possible for a corrupt man like Mike Arroyo to have German bank accounts over breakfast when suddenly both of them fell silent followed by pained expressions on their faces. I thought I had said something Ben Stillerish in "Meet the Fockers" but then I realised they were straining their ears to the radio news bulletin. Apparently traffic is 'bad' in the autobahn but my rudimentary German picked up that this meant a temporary 'speed limit' was being imposed that morning due to the volume of holidaymakers returning to the cities. Of course, I had to share that in my culture, ie my beloved Pelefins, 'traffic' means "crawl like a snail on crutches" and not a disappointing 100km/h temporary speed limit. Oh well, a perfectly banked and smooth national highway with no speed limits like Germany's is everyone's envy. Interestingly enough, there are very few traffic accidents in the autobahn. Well, it helps that the driving exams are very difficult. I recall that a blind man was once given a drivers licence in Baguio. I'm sure if he heard this morning's news about the temporary speed limit, he too would have a disappointed look on his face.
JM's aunt has an impressive hunt collection. Even if they owned the hunting grounds, every kill must be carefully catalogued hence the tags. Kinda reminds me of my uncle's trophy collection of carabaos killed for the canaos.
After catching base with dear JM and being welcomed into the family, sadly, we had to continue on our technicolour adventure. JM dropped us off at the train station and His Royal Orangeness Karl Willem got our tickets to Salzburg, a mere 30 minute train ride away. HRO Karl Willem has a sense of humour as he got us seats next to two police officers. Fortunately, they are not Filipino policemen so it's quite safe. If they were Filipino policemen, I would have held on to our bags and double checked my wallet every minute. I've just noticed that German Police are deployed in pairs and it's always (mostly) male and female. How very progressive.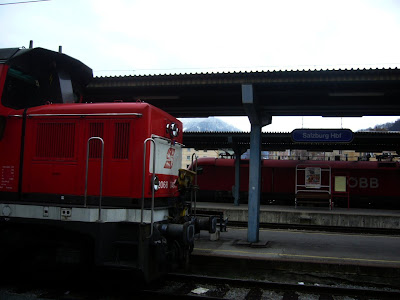 When we got to Salzburg, PA/PR Gromit reminded us of its history. You see, it does not take a languages genuis to figure out what "Salzburg" means. For the benefit of Ateneo de Manila students it's
"Salz"
=salt +
"burg"
=castle. Yes, Salzburg is a town that grew rich from white gold - salt. It's almost unthinkable in this modern age that such a rich city could be built on profits from salt. We are not lying because it's
asin
to tell a lie. (That's a lame tagalog pun for our non-sprachen Filipino readers). Well, actually, there is also a province in the Philippines that was named after white gold - Pangasinan. But, do not ask me why Pangasinan remains poor while Salzkammergut (the salt region of Austria that includes Salzburg) became rich and nurtured the genius of Mozart and Doppler.
(Ok, we all know one answer - despite producing one president, Pangasinan is still led by corrupt and/or incompetent politicians...another is that it's too catholic, ie overpopulated.)
Aaaanyways, PA/PR Gromit quickly got us train tickets into the heart of the Salzkammergut, into the oldest Celtic settlement. 20 minutes after arriving in Salzburg, we were off East...
...taking the train towards Vienna, getting off at Attnang-Puchheim to take another train towards Bad Ischl.
HRO Karl Willem and PA/PR Gromit walked to and fro on the rather short train.
HRO Karl Willem trying out the native delicacies.
HRO Karl Willem and PA/PR Gromit kept the Nashman in the dark as to where actually we were headed but the view going there was very picturesque. We passed many lakes and the train snaked along a ridiculously glacial blue river.
Along the way HRO Karl Willem and PA/PR Gromit saw some of the salt trains. Very impressive that even today, salt, can afford to pay for its transport by rail.
HRO Karl Willem and PA/PR Gromit impressed by how clean the river is. How we pray that someday, Pasig river will be as clean so as to be bottled directly like Evian. We would however like to share that the first train from Salzburg was, shock, gasp, 5 minutes late! HRO Karl Willem and PA/PR Gromit were ribbed some of the locals about this and The Nashman even used it as a chat up line
"And this train is late, why?"
to a pretty girl in the same caboose.
Are we there yet? Are we there yet?
I asked PA/PR Gromit as we passed one beautiful lakeside town after the other and then.......
Oh.my.god. You dawgs! It's, it's, it's jaw-dropping.
That!
, said HRO Karl Willem and PA/PR Gromit,
is where we are going to chillax for the next few days.
PA/PR Gromit, our ringleader, arranged for a boat to pick us up...
..to take us from here....
...to there...Oooh, we can't wait!