For the benefit of The Ateneo de Manila students who know nothing, the capital of Southern Bohemia, Ceske Budejovice, also goes by a more familiar German name - Budweis. The city was the royal tipple brewer for the Holy Roman Empire and remains home to the last brewer still wholly owned by the Czech state - Budějovický Budvar
(
Budweiser Bürgerbräu).

Thus, they are the RIGHTFUL owners to the Budweiser label

(no matter what those lawyers tell you)

and Czech Budweiser is far superior to that diluted copycat piss being sold in the rest of the world.
This morning, His Royal Orangeness Karl Willem, PA/PR Gromit, and The Nashman killed some time navigating the alleyways of this pretty Renaissance city.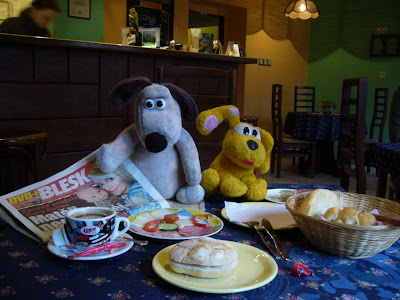 HRO Karl Willem and PA/PR Gromit start the day with a modest breakfast. We were also chuffed to bits that The Nashman is the first ever Flipinoy tenant in this pub.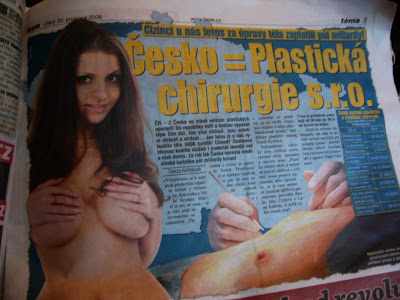 We are newspaper junkies and our Czech vocabulary has increased tremendously after watching dubbed Hollywood flicks last night. Apparently, boob jobs are still booming.
...we also learnt that Titanic is the number 1 all time box office hit in these parts. I still have to see that film.
The dawgs remind The Nashman that the only way to experience a city is to go off the beaten track, in the underbelly of the city.
HRO Karl Willem and PA/PR Gromit explore the massive town square.
...which is surrounded by 3 different architectural styles.
The weather is so tropical. Bring out your flipflops and
sandos.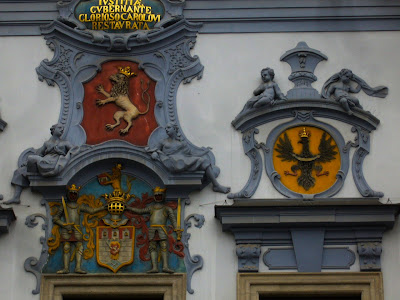 Detail of the town hall's baroque facade.
Now, I have a feeling of de ja Vu. It could have been some street in the Philippines were it not for the American bombardment.
It's so pastel yummy.
The rivers Vltava and Malse are frozen...
..to prove that, The Nashman threw a wheelie bin to the river. (Don't worry, we replaced it properly)
This used to the be old meat hall
(or Slaughter House to you Baguio natives).
The centuries old building is now a beer hall. A good crowded place to drink Budweiser. Sadly, it was too early when we got there.
...fortunately, street stalls abound selling gluhwein! Mmmm...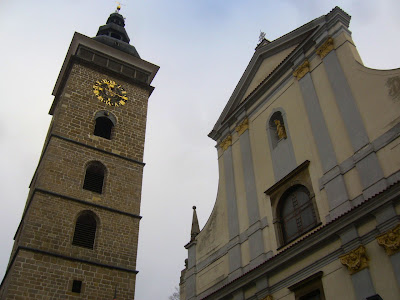 That's the Black Tower, built 1553, around the same era as the Spaniards were sending nasty Friars and corrupt Catholics to the Pelefins.
Mmmm...coming from Baguio, The Nashman always stops for ukay-ukay!
Looky looky here. The Tom Cruise Miracle Crusade is slowly gaining a foothold. The Christians mock the Scientologists for being a 'cult' but give them another 2000 years to fine tune their machinery, and they will be just as acceptable as Catholicism, also once labeled a cult.
The winter heating comes from coal???
(Or is that just some factory smoke stack?)
Hmmm, I thought there was a Soviet-built nuclear plant here..