A whisker past noon, His Royal Orangeness Karl Willem, PA/PR Gromit, and their loyal human consort The Nashman headed off to the train station for the next leg of their backpacking trip. We were leaving the capital of Southern Bohemia for the crown jewel of our journey. It was a most wonderful train journey on an old rickety train that had only two carriages! It weaved slowly through pine forests and we spotted some deer and rabbits!
(That's very promising for the local cuisine!)
There were lots of level crossings and so the train stopped and honked its horn every so often.
The cute train station.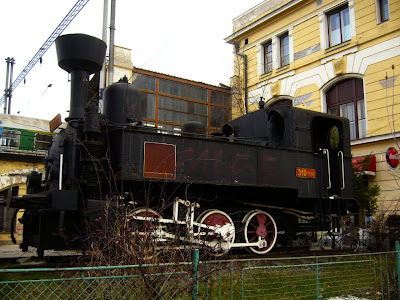 Being train nuts, we honestly don't mind if this was today's transport.
The dawgs and The Nashman are cunning linguists and have started speaking basic Czech. There is an interesting observation HRO Karl Willem and PA/PR Gromit made in the Czech Republic regarding languages - you can get away with some German, the young people definitely speak excellent English
(and like the Pelefins with a slight USA twang, an effect no doubt of TV and Hollywood)
, and the older generation can but do not want to speak Russian. As in EVERY culture, it helps if you know how to say Thank You in the local tongue.
Don't be a dork from The Ateneo de Manila and insist on speaking conyo.
Well, ok, we don't really expect that much from Atenistas.
It's like home!
Ihi/Isbu
- 4 koruna, T
ae/Tak-ki-
7 koruna. But unlike Victory Liner terminal toilets, you won't feel ripped off here because the toilets are actually clean and there are basic toiletries.
We like that it has that nearly run down feel. It has character! Ok, the dawgs and The Nashman still think that the Swiss train system is the best but sometimes that experience can be too sterile and boring.
Yummy looking livery.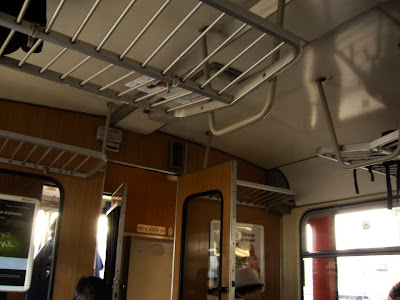 The bag racks above your seat, the train is sectioned like a mini-jeepney!
Apatan harap-harapan pwera lang kung may mataba.
Of the three of us intrepid travellers,PA/PR Gromit has the most experience with trains and he gave a talk on the basic history of the Czech rail system. PA/PR Gromit pointed out that the first horse-drawn railway in the continent originated here, on this very spot, leading to Linz, Austria.
We met a couple of trains along the way.....
...to one of the most beautiful cities in Europe...