When the dawgs and The Nashman hatched this backpacking trip, we made one rule, absolutely NO guidebooks will be carried. What we know of Salzburg is from stock knowledge, along with the movie references thrown in. And it's kinda nice because we learn along the way from the natives and are not stressed that we have to go visit this place and that place because a Lonely Planet guidebook said we should. We didn't even have a place sorted out until after we got off the train from Halstatt. Of course this general 'ignorance' means we miss out on some attractions but hey, it makes the place worth visiting again.
His Royal Orangeness Karl Willem and PA/PR Gromit have the customary walkabout before breakfast.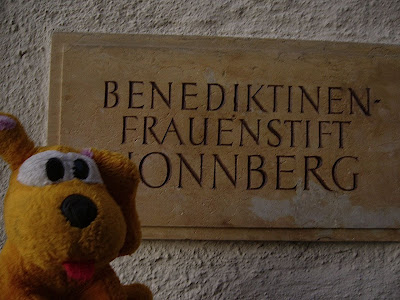 Our first stop is Nonnberg Nunnery. No, Maria wasn't in. She's such a problem.
The dawgs went up the castle hill again..
..that be the Castle but it's too early and everyone's asleep so the dawgs just let them be.
PA/PR Gromit defies gravity to set up our camera for some holiday snaps.
Yes, it appears to be a man standing on a golden ball.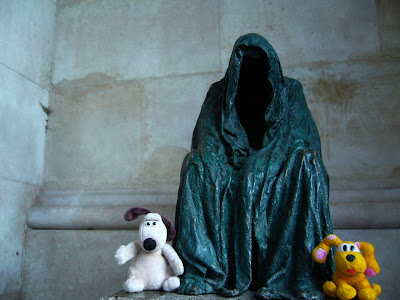 This sculpture commemorates one of Mozart's operas. It looks very LOTR or Star Wars Jedi cloak don't cha think?
The dawgs sniff out the symbolism of this piece.
Hello, anyone in there?
Yo welcome to our cribs, you know what I'm saying? HRO Karl Willem does his Tupac impersonation.
After breakfast, we crossed the river to check out what's on the other side.
HRO Karl Willem and PA/PR Gromit and another familiar landmark.
..as you can see from the frozen pools, it's freezing cold.
The dawgs say hello to one of the locals.
We then visited Mozart's house...(more on that later)
...before having lunch of really stinky cheese.
HRO Karl Willem says the cheese smells of well aged
etag.
That is not coca cola in the cup by the way, that's gluhwein. And thank god for that because it really was cold.
This region definitely loves kosher/halal food.
Mmmmmmm.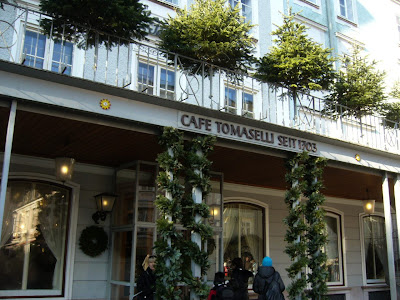 After outdoor lunch, it was time to visit the oldest Cafe in Salzburg. This is the place to see and to be seen in Salzburg....if you can find a seat.
...But once you do, it's only a matter of pointing our what you want with your coffee. We'll have one of those, and those, and those, and those....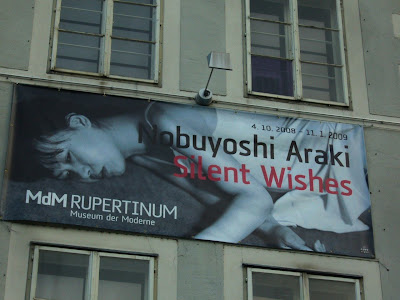 We had enough time to learn some bondage skills from one of Japan's most prominent photographers.
HRO Karl Willem on the bus to for the train station. The dawgs say we should visit again soon and stay for longer than just an overnight stopover.