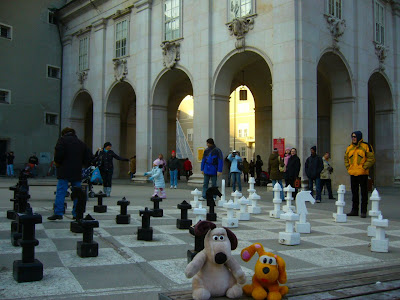 After dropping our bags in our lodgings located just below Nonnberg Abbey
(surely you know what that abbey is famous for)
, His Royal Orangeness Karl Willem and PA/PR Gromit quickly dragged The Nashman to the city centre to observe what the indigenous peoples of Salzburg were up to. As you can see, the natives are playing chess. This excited The Nashman because this meant we can be backseat chess "players".
Ta kitam, kunak gamin diay rook ti i-move mo madi ka gamin mamati.
The Nashman was hunger and so ate what the native peoples ate. I'll have me some of that Devil Hot Dog please. Make it flaming hot.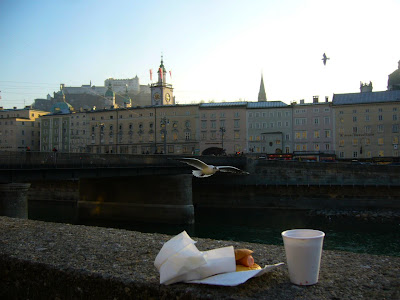 Eating hotdog and drinking gluhwein along the river.
Gad, Ashley, sinong mag-aakala na ang isang dugyot na taga-barangay karayan na tulad ko na hanggang Tummy Fillers lang noon ay sa tabing ilog ng Salzburg na ngayon nag-memeryenda. Pwede na bang isapelikula ang biag ko? From rags to rags pa rin dahil hanggang ngayon povered child pa rin ako. Location shooting nga lang.
HRO Karl Willem and PA/PR Gromit and gluhwein - necessary to keep us warm in this cold cold afternoon.
HRO Karl Willem and PA/PR Gromit on one of the famous cows. Incidentally, when The Nashman becomes Mayor of Baguio City, we will definitely be getting some of these iconic cow sculptures.
HRO Karl Willem and PA/PR Gromit and behind them a man tenderising dragon meat before grilling.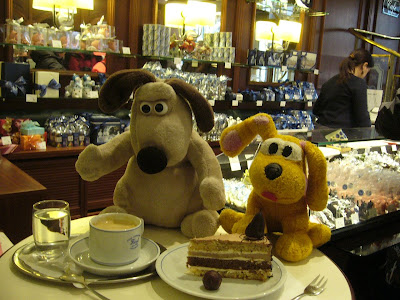 Of course, what are we in Salzburg for if not to hop from one posh cafe to the other. As you can see, HRO Karl Willem and PA/PR Gromit get the coveted table 1.
(Shet ang mga haterz, mamatay kayo sa inggit.)
This is prime spot for seeing and being seen.
Mmmm, it's delish.
HRO Karl Willem and PA/PR Gromit and lion with afro and long tail.
And now for some shopping. Do you think Swarovski encrusted cameras are discreet enough for taking voyeuristic photos?
Hindi ba halata?
Austria of course is home to Swarovski so we might as well get some. USB memory sticks anyone? Nevermind that the last person I gave a Swarovski piece broke my heart a couple of months later.
(Hoy, ibalik! Kung alam ko lang na nabawasan na pala pagmamahal mo sa akin noon, hindi ko sana binigay....Joke lang. I give gifts wholeheartedly)
Right, what else is geeky...
Hello, party line?
Pwedeng pakibaba.
Hmm, I need those earphones to use on my £15 mp3 player.
Pero siempre, ang mga hindi naman kamurahan na regalo dapat may kapalit diba? Aba, hindi na Plakabar poster yan.
If you are like The Nashman and have a short and thin penis, these condoms are the best because the the rubber is constricted just below the shaft thereby reducing spillage and the chances of
pikot or
accidental blessings.