As regular voyeurs of our online diary know, PA/PR Gromit handles all our accomodation requirements. This time, PA/PR Gromit convinced us to go old school and live above a pub, as travelers did back in the days. PA/PR Gromit got us a room in a pub that's carved into the 14th century city walls. Of course, now it's right smack in the middle of where it's all happening.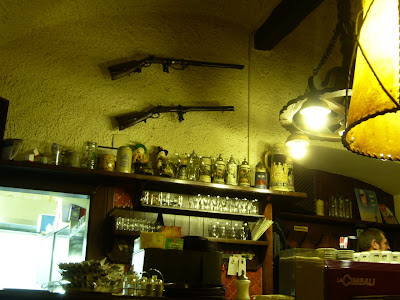 Our landlord's guns.
HRO Karl Willem and PA/PR Gromit and our dinner of goulash and potato dumpling, with the local tipple of course.
The rooms are modest and irregular and we loves it!
..and the sink in the room is very Oxbridge.
...how about our toilet which looks to the Courts of Justice.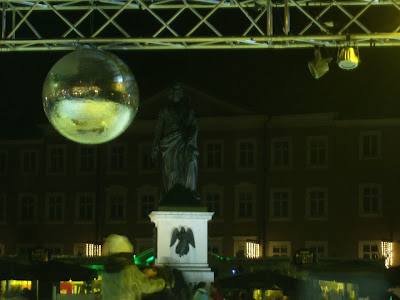 After dinner, we went to Mozart Plaza which has been transformed, for the winter, into a disco ice skating rink. I wonder what Wolfy thinks of the heart pounding bass tunes coming out of the ghetto blasters.
How very cute! A child learning to skate with the aid of a beer crate.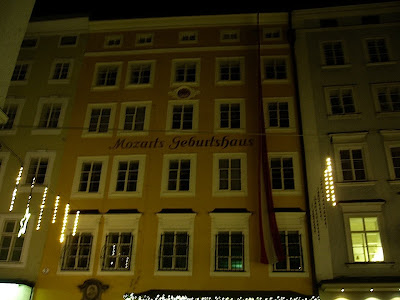 This is Wolfy's birthplace, says so right there in the sign.
We went cafe hopping, first stop is the hip Afro Cafe. It's whack.
Mmm, I is loving the 'fro bro'
...then to another cafe to hobnob with more pretty young thangs...
..then our favourite part of the evening - staggering home in the longest and slowest route possible. Salzburg is a walking town and our boots are made for walking.
We found ourselves on top of the hill just below the castle.
As you can see from the roofs, it was freezing but the alcohol and the walking gave us warmth.