Would you like to try on the local windproof Gore-tex?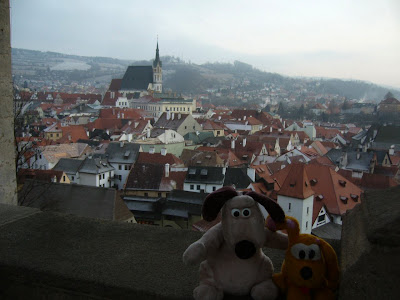 His Royal Orangeness Karl Willem and PA/PR Gromit, and The Nashman are so happy we get to celebrate New Year's in Sexy Krumlov.
We love the spaced out barn animals. Dude, we've been awake all night. That Jesus baby kept crying all night..then some shepherds came, then some wise men, then they started singing carols..
HRO Karl Willem and PA/PR Gromit chilling with the frozen fountain.
The castle complex and the Vlatava beginning to solidify as the night cools down...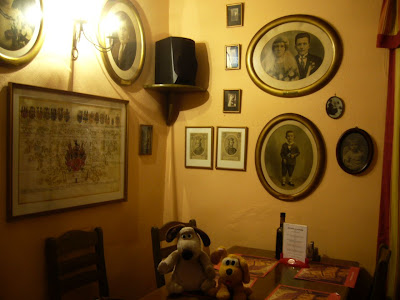 ..but no worries as HRO Karl Willem and PA/PR Gromit found a cozy place for us to have a simple New Year's eve dinner, surrounded by photos of dead aristocrats.
We had a starter of buffalo mozarella and tomatoes.
..and tried out the carbonara. This pizzeria has been around for centuries.
HRO Karl Willem and PA/PR Gromit then have the customary walkabout.
It's a beautiful city, no?
HRO Karl Willem and PA/PR Gromit think this is one of the most beautiful cities they have ever visited. It's very small, it's got a river, it's got art, it has got loads of cafes, it's got lots of beautiful people.
To warm us up for the festivities, HRO Karl Willem and PA/PR Gromit serve a shot of Czech spirit.
...then it's off to the town plaza to dance the night away with the natives.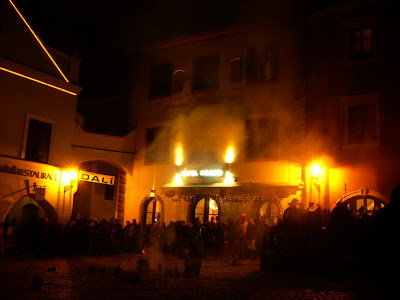 ...it was also bring your own fireworks. There was a chinaman who brought out one launch pipe and kept reloading and reloading with very impressive fireworks. We were really surprised and awed. It was a scene straight out of Coneheads.
We loves that it's like the Pelefins. Health and safety? Whut's that? Let's play with fire! The Nashman's first kiss for the year was from a very charming and pretty Scottish lass. She is also an actress (they just filmed this surreal scene of her in a wedding dress crossing the freezing Vlatava.)
..then off to an underground swing party!!
HRO Karl Willem had a blast.
This being Bohemia, the stench of alcohol, sweat, and cannabis hung in the air. It was magical. Plus, The Nashman met a very seductive and stoned French girl. What is it about stoned philosophy major French girls that make them so irresistible?