Time to thank Karen Walker for her warm hospitality. In five days, she made me fat. Laking pasasalamat ko sa butihing attorney namin ni Ashley na pinatira niya ako sa kanyang condo malapit sa Rockwell. Ambait-bait talaga ni Karen Walker, meron siyang pusong mamon at ang kanyang katawan parang extra large siopao. Si Karen Walker lang ang taong maraming Pucci at Ferragamo sa closet na nagmumukhang mumurahin pagsuot niya. Babawi nalang ako pag na-approve na ng PAMET ang aking Likas-Sayote whitening soap!
Kaytee, bless her, picked me up from Karen Walker's condo to go do some photography and cultural ek-ek. But first, let me say that that Jockey ad shows how women should dress in a tropical country such as ours.
Is that the Gucci Gang car?
Before there was Hayden Kho, there was Jose Rizal, the consummate lover. Naka-ilang multinational booty call rin si Rizal ha. Idol talaga.
Mainit. Kaya ang aking wreath, hinagis ko nalang from the comforts of an airconditioned car. The Nashman is not used to the humidity whereas Jose Rizal is wearing a thick overcoat. Sometimes you wonder, isn't he a bit idiotic for wearing European clothes in da tropics? Siguro ganyan ang turo sa The Ateneo.
If you are lost, ask a drunk kanto siga! Kaytee has a new boyfriend! It was love at first sight.
In fairness, kahit bulol bulol ang salita ni kanto siga, tama ang directions na binigay niya!
Just so you know, this is where you send your kids for money for schooling expenses. The Catholic Church does not support the RH bill because the Catholic Church can provide free schools, free hospitals, free farm to market roads for a population of 100 million.
I was surprised to find the church in Intramuros to be small. I thought it was much grander in scale. Also a big disappointment is the fact that there are no posters inside the church discussing its history, the construction, how it survived through centuries. Instead, you get nauseating posters about Catholic Dogma and why The Virgin Mary is so and so. I got bored. And so did the other tourists who didn't stay very long. Total turn off. Calling Carlos Celdran.
I love this faux-arch!! Sure it's made of plywood and shoddy but it's very quirky.
Whoever thought of this should get an Oscar award for set design.
Oh god, it's fricking everywhere. Seriously, is being mentioned in the Philippine Tatler good for business???
I think it's a composite. I don't think those people even liked each other to pose for such a picture. Dito napapabilang ang Royal Friend from Culiat ni Ashley.
Isa rin siyang ilustrado, este, ilusyunado.
Kaytee under another acid-trip painting.
For starters we had calf's brain. Mmmmmmmmmm...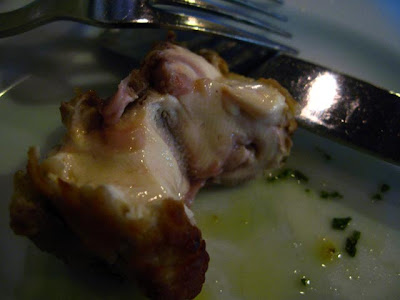 It's melt in the mouth goodness!
A plate of standard spanish artery cloggers. Very good.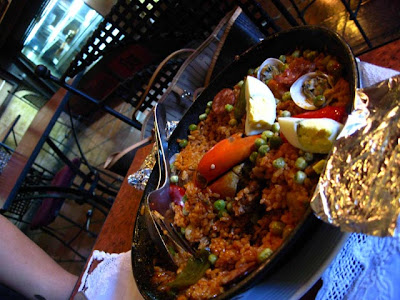 For mains we had the paella Ilustrado. Sparky joined us but went straight for the Cuba Libre. I can't blame her, if you work at the Ateneo teaching the conyos of tomorrow, you'd binge on the alcohol too just to forget.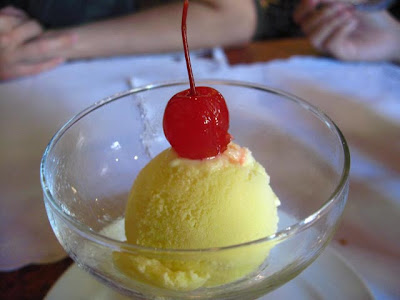 Now this is pure magic. Sampaguita ice cream! It tastes of a funeral. We all loved it!
My two lovely friends, being posh Ateneans (poor them. I will do my best so that their souls can be redeemed), wanted to go all-posh but I preferred we go to Manila Bay and be with real people.