Kaytee snaps away with her gorgeous Leica.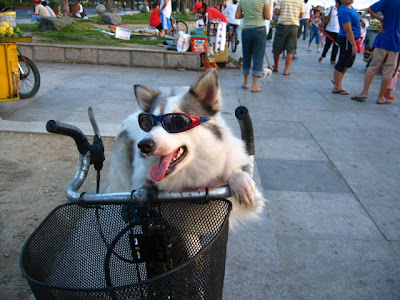 This is how we rollz, yo. Woof woof!
It would be wonderful if it's true love. But let us call a spade a spade. That crinkly old white man is likely to be a sex tourist preying on poor Filipinas.
Manila Bay mussels anyone?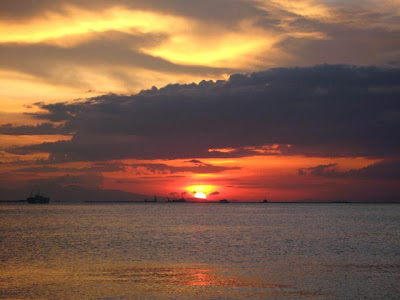 The standard Manila Bay sunset. Made possible and spectacular by pollutants in the Manila atmosphere.
Some people hate the lampposts. I think they are fun.
Off we go to Malate for dinner. I wanted to bring Kaytee and Sparky to that place where the food floats at waist level, ie Hobbit House. We searched and searched and were informed that it moved to Ermita. The Nashman felt shortchanged.
As an alternative, I dragged the girls to this place called Wok In (or something). It has no menu. You simply point and they cook it.
You can also point at the fly but I don't think the chef will be pleased.
One of the waiters had another Hayden Kho video. I promptly confiscated it to educate myself on what the fuss was about. My take on the matter?
Consensual sex is good.
Consensual making of a sex video is good.
Making a sex video without the other's consent? Not good. Going back to the food, it was very good. The three of us enjoyed it. Of course, the lack of a menu means the bill can be shocking. It wasn't expensive but it wasn't that cheap also. However, we trust that we were billed correctly.
The loo gave my friends from The Ateneo a scare. They is not used to the
tabo
flush system.
I didn't knowing that my friend Joshua is the resident
tigas.
The City of Manila provides a big ass sound system playing hip hop to go with the fountain.
Ramdam na ramdam na talaga ang pag-unlad handog ng Mahal na Pangulong Gloria. Onward to pershworld statush 2010!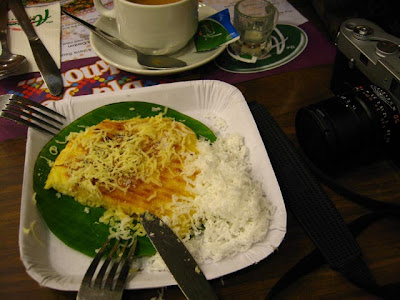 For dessert, we had bibingka from the Aristocart.
The Nashman thanks Kaytee for being such a sweetie, driving The Nashman around Manila, and being such a great companion! Hugs and kisses! We also thank her Leica which made us very popular and allowed us to connect with great people such as Sparky's new wifebeater-wearing boyfriend, and multi-awarded photodude
Linus
who did a Hayden Camera on us.
The Nashman took the 11:45 pm Victory liner deluxe bus back to Baguio.
The deluxe bus comes with a high-heel wearing stewardess instead of a
konduktor
. It's a non-stop bus with wide reclining seats and an onboard toilet that gets you to Baguio in 4.5hours. You also get free bottled water and a brownie.
O ha, Ashley, posh na talaga ang mga provincial buses. Ramdam na ramdam na ang pag-unlad dulot ng mahal na pangulong Gloria Arroyo!