Yes, it's a long way from St. Andrews. The Nashman returned to Laguna and with Kaytee, commandeered a golf cart to inspect the quality of the greens of Karen Walker's home course.
Let me just make a long story short. If a 7 year old half as tall as you scores an eagle on a Par-5 hole, it's time for you to go home. Let me just say that same 7-year old scored a rare hole in one in another course on a national tournament that booked her place to the San Diego juniors championships. On hole 6 I asked her caddie
"So saan diyan ang naabot ng bola ni H.?"
Sabi ng caddie
"Ah, between those two bunkers"
. I could not see the said bunkers, even with my eyeglasses.
Magaling nga ang batang ito, umuwi na tayo ng luhaan.
The Nashman hangs on for dear life on the golf cart that has no brakes.
Unlike other golf courses in the south, there are lots of trees and sections left to their natural state in this course.
(Golf courses don't like having trees because the falling leaves interfere with the greens.)
We are standing on the tee of the 18th hole. It's a thing of beauty even if, like The Nashman, you don't play golf.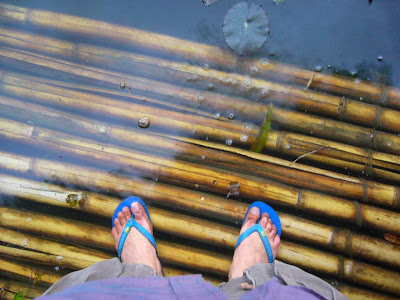 Later in the evening, The Nashman and Kaytee took a raft to Karen Walker's little hut by the lake. The Nashman is so overweight that the raft began sinking.
I love this raft, even if it failed to support my weight.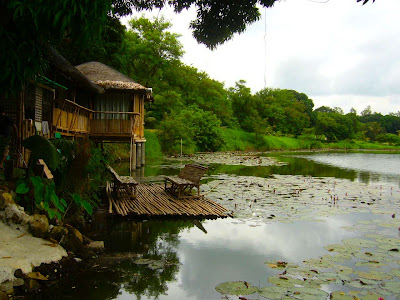 When we got there, Ashley was sleeping.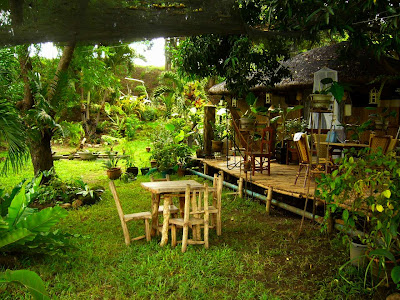 The yard.
The small dining area overlooking the lake.
The hammock.
Kaytee's Leica was happy today as it got lots of good snaps.