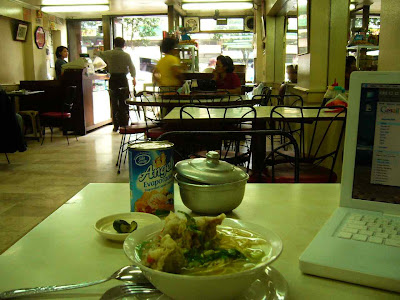 This is where the natives go in Session for no frills chinese food. Lolo also installed wifi
(akshwalee, yung signal ng McDo on da other side of the street malakas...so imbes na kumain ng walang kwentang McDo, dito nalang tayo diba?)
. Luisa's Cafe is also one of the hang outs of Baguio photogs and journalists so if you want local gossip, this is the place to be for tea time.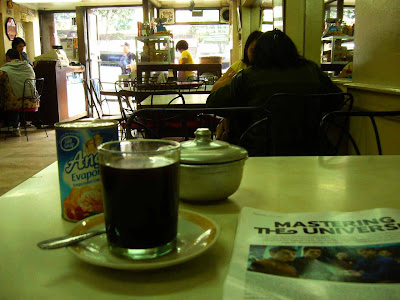 This is how you serve Benguet Coffee, in a glass that is impossible to hold because the water is scalding hot. This simply means
"Don't rush, stay a while, linger..."
Because lots of oldtimers hang out in the cafe as well, there is a hearse permanently on stand by outside to transport the cadaver. They don't have such good customer service in McDo even if McDo contributes more to heart disease and obesity than simple chinese cooking.
Mindful of the fragile health of the oldtimers and journalists
(if they is obese, they cannot scoop..look at Jessica Soho, you think she will be embedded in Iraq?)
, desserts are not a strong point of the Cafe. You can find some decent sweets up in Kidlat Tahimik's 'hood.
The literal translation is
"Duraan mo para dumulas"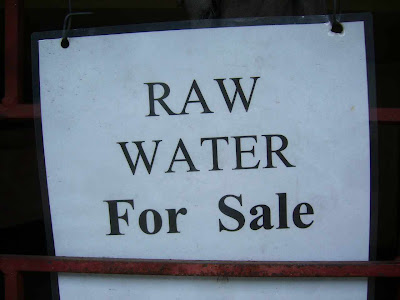 21-step reverse osmosis and filtration? Earth minerals for health? Fuck dat shit! We serve it raw! If you sell it, they will buy!
One of the whorehouses in New Lucban. You can buy ladies in this mall.
Does your local hospital has this?? This is where you go to have your chiknini treated.
What did I tell you? There's a Tito "Boy" for anything! How convenient for Tito Sonny Boy that Tito Boy Cachero's jewelry repair shop is nearby! Everytime the
bolang kristal
fails, help is at hand!
What ded I tel yu? Des es a bere auspecious place to start a besnes.
Private Bath = your very own
tabo and batya
not shared with the other tenants.
ONE of all of you has to take that road.
I don't see why the people wanted refunds! The
set carpenter
from Ballet Manila is technically a guest AND an artist! No one said anything about ballerinas!
Because the review is so boring you'll give up on life.
Yes, they is REALZ, you know what I'm saying? They got proper white people to teach you how to enunsheyate your difthongs and not some 'hilaw na kano' glutathione whitened freak like Loren Legarda. Ditu na suki, oridjinal ditu!
Incidentally, yung suki na nagbenta sa aking ng 'advance copy' ng Star Trek dobol w/ Ded na si Lolo, fotang-ena, kuha naman sa sinehan! Tabingi pa!
Just so you know what really happens in such a shop.
Fuck me, is that a real ad or am I fuck tripping on drugs?