It's been raining everyday in Baguio...with proper thunder and lightning.
Haylavet.
I also love taking afternoon baths directly under the drainage pipes. It's so rejuvenating.
The friends went to the skating rink for some good old fashioned fun. I betcha none of the RPG-addicted kidz of today can roll down concrete without breaking their hips or bashing their heads. We, on the other hand, excited the torests with our death defying Blades of Glory tripol axols.
They've put a roof over the old skating rink. We miss skating in the rain.
To make the track more challenging, try to avoid the
balde para sa tumutulong bubong.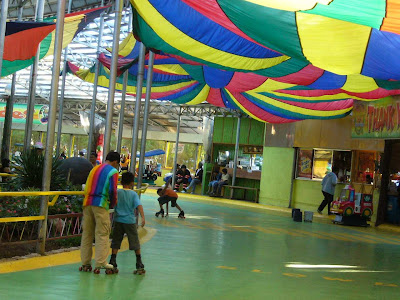 If you need any visual cues, that man, who is dressed like the marquee, is the resident skating pro.
Does you knows it now costs P4.00 to make isbu in Baguio! Better to find a pine tree, if there are any left.
Skating burns calories. This is the original street pizza.
Disgusting but satisfying.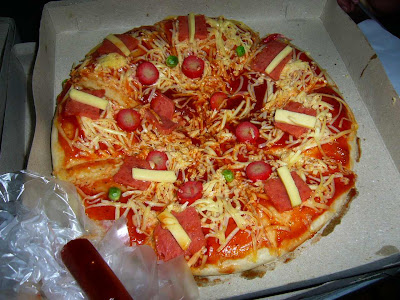 O ha Ashley, chili sauce in ice candy-plastic! Saan ka pa! Walang binatbat yang mga pinagmamalaki mong Grinitch grinitch or sbarro ek-ek. Only P90 pa!
Time to go home to catch dinner...and where do you catch the jeepney? At the No Loading zone of course.
Oh, 15 nalang lalarga na...