So, is this the same Club Dredd of yore? Now in Eastwood?
This young boy is smoking a cigarette. Fortune tobacco must be very proud.
Hey, we has our own flat iron building!
Is it extra virgin?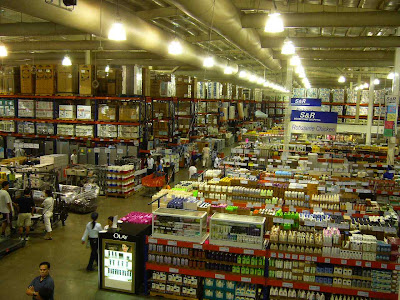 Warehouse grocery in Fort Bonifacio. It's amazing how many uniformed maids are openly chastised by their
'amos'
here. Forget about Chip Tsao! We have Pinoys shamelessly verbally abusing their maids for trivial reasons!
Heto ang iyong konsiyensiya. I want to slap the PR person who thought of this gimik! UV light shows germs! Wow, that's Nobel-prize bait.
Chemical goodness. Bags and bags of flavoured tea. Heto ang mga ginagamit ng mga pa-posh Trinoma food establishments, mga tinatawag nilang 'natural juice' at ibinibenta ng mahal sa mga pa-posh pero tangang people. Yeah, give me more synthetics, my body needs it!
Another pointless product - brownies and cookies imported from the USA. WTF??? Do we really need this imported junk?? Para lang siguro masabi ng royal friend from Culiat ni Ashley na imported ang biskwit niya.
To be fair, the grocery also sells wonderful
tawiles!
Mmmm.
Why so sad, fair Mariam? You need to snort another line of sugar or somethin?