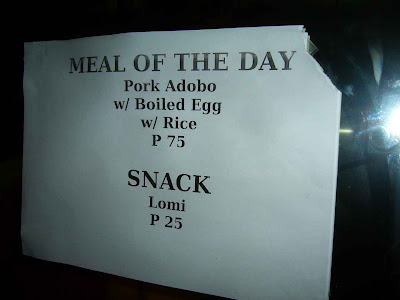 Karen Walker's hotel-apartment has the words "Makati" and "Prime" and "Suites" but it has this plastered on the lifts.
O diba Ashley? Ang so-called posh na condo naging bakya.
Kakaaliw rin ang hotel-condo na ito. Pag-gabi marami ka makakasabay na puti kasama ang mga fokfoks/gfs/whatevs/ dahil ito nga ay ang red light district ng Makati.
Mari dragged The Nashman for tea at Glorietta where they were serving radioactive ice cream. Apparently, blueberries are toxic blue.
Later in the evening, The Nashman had quiet dinner with Ashley and our writer friend who was formerly on the witness protection program.
Rich na talaga ang Ashley, sa M Cafe ng Ayala Museum nagpakain. Dati sa half-budget meal lang siya ng culiat. Ngayon pa-food food na siya ng mga mamahaling pagkain na may kaakibat na Philosophy.