Where to go in Manila on a rainy day? Nowhere apparently. Unless "Malls" excite you. All malls, they look same - same crap, same stores, same demographics. This is why The Nashman, even if he sweats a lot, likes the street scene, coz that where the action at, innit? Ah, but for the rains and the black fluid that oozes out of Manila streets. I'd rather have H1N1 than make tapak tapak that kadiri tubig ano.
So I stayed imprisoned inside Ashley's nagpapanggap na posh condo at Ortigas. The Association Nazis knocked on Ashley's door because they demanded him to take down the laundry I hanged on Ashley's window to dry. Apparently, it ruined the 'elegant facade' and 'allusions to poshness' of the condo.
PAK DAT SHET!!! Helllooooooooo! PUTANG-INA, yang mga briefs ko na sinampay sa bintana CURRENT SEASON YAN! BINILI KO PA YAN SA ITALY! NAPAPANOOD YANG MGA KANSUNSILYO NA IYAN SA F TV. Yang mga medyas ko Old Bond street nabili yan! WALA NIYAN SA TIENDESITAS. Hanong nakakasira sa view ang pinagsasabi niyo? Lukdet. Environmentally friendly kaya hand washing at ang pagsasampay para matuyo ang labada.
Putang-ina talaga, kaya ayaw kong tumira sa condo. Maraming rules and regulations na walang kwenta.
Anyways, our commie whale watching friend Joma brought pan de sal in the afternoon and with her submersible na kotse we motored off to Eastwood. We went to a home ware store where the acrylic 'appliances' were so fricking expensive. I was shock, confuse, and surprise na may mga ganitong overpricing sa ating Inang Bayan. May bumibili naman? Meron, isa na si Joma. Sabi ko kung CD plastic box lang kelangan niya, hanapan ko siya sa Hilltop, Baguio for cheap.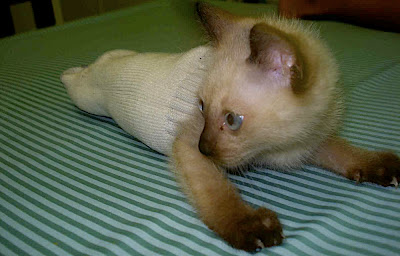 Hullow, I'm Francesca, the mercat....Ah, isn't she adorable.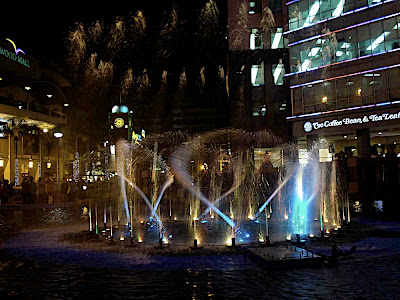 Our free entertainment for the night, a dancing fountain.
The people think it's the best thing since sliced bread.
Smile. What is the world without our beloved synchronised arm tripod photographers? I-post niyo yan ha sa Friendster niyo. Shet, The Nashman was impress with the girl on the left and the way she put her free hand under her chin. Panalo. It's so Metlogs.
Nice shape ha. Very Brasilian.
We had dinnah at Cyma. The place not only had a 'mission-vision-philosophy' statement on the the menu
(front and back pare, as mandated by the association of restaurants with 'mission-visions')
but when you order anything roast, all the waiters come to your table to shout "Opa!" Eww, isn't that a bit corny? The service is very friendly though and the food was good.
Mmm, seared fish on top of salad.
Angel Hair.
The Nashman's plate. Yan ang totoong plato, hindi yung super edited na malinis na photos ng mga madramang food bloggers.
Paano na lagyan ng watermark ang aking food photos as mandated by the madramang pinoy i-blog ek-ek association headed by the likes of Yuga and Toral? Baka kasi nakawin ang aking common macro shot of common food.
The bottomless freshly brewed iced tea has to go somewhere.