...are everywhere, ruining our peace and quiet at the Baywalk.
These hordes of camera-wielding terrorists must be stopped from taking snapshots of defenseless natives! Natives, know your rights! Don't be the next Katrina Halili! No means no! Don't be raped by these DLSR nutters and their self-serving photoblogs!
If you see a pack of DSLR nutters taking your photo you have the right to shout
"Hoy, putang-ina ninyo! Kukuha-kuha ka ng litrato para pagkaperahan mo at i-post sa photoblog mo pero hindi mo man kami binibigyan ng prints man lang. Shet ka! Layas!"
DSLR nutter takes photo of native just sitting quietly, minding his own business.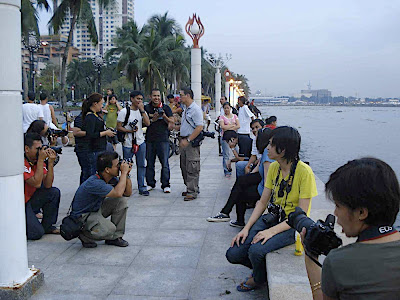 DSLR nutters come in packs. They will take snapshots of you when all you want is to have time to yourself.
Look at how shameless and evile DSLR nutters are.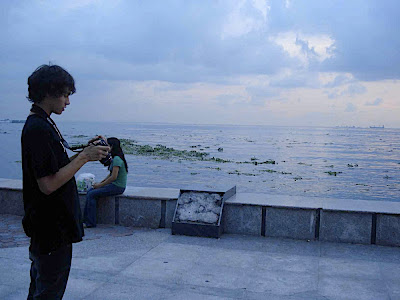 This young man was taking illicit photos of The Nashman and so The Nashman challenged him to a shoot out until our batteries got drained.
O ha? Kailangan pa bang i-DSLR yan?? My 7 megapixel rusty borrowed point and shoot camera shows you how it is done. Look at the composition, the evenness of tone, the correct ISO setting, the melancholic feeling of euphoria that arrests your senses as you view a The Nashman snapshot.
Tang-na, kahit maliit lang ang baril kung sapul agad, panalo pa rin. Akin na yang "portfolio" mo at pampunas ko ng pwet.