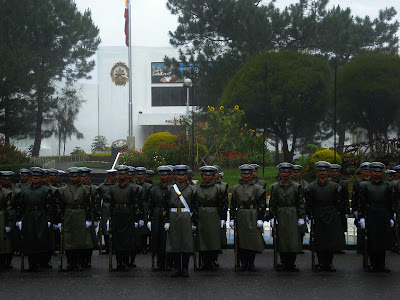 Two days before Dear Leader Gloriadijenad defiled Baguio with her stench as announced by self-congratulatory streamers ordered by her lackey, Philippine MisInformation Agency Cordillera Director Helen Tibaldo, The Nashman was able to review the troops.
Unlike Gloria Arroyo and Helen Tibaldo, our courageous cadets actually know the meaning of "Honesty" and "Integrity". Whether they will continue to adhere to the honor code when they leave the academy is another story but for now, the cadets are expected to be the best of the best. After all, they are the true
"Iskolar ng Bayan"
, given free education and guaranteed jobs upon graduation from the PMA.
"Sir, it's like, bubuhos the ulan and we will be basa. Can we just postpone for later na kasi it's so malamig"
is something an Atenista would say...
...but for these guys, the show must go on. Even if it's ONLY The Nashman watching.
Oooh, furled banners. I hope those are not the moronic self-congratulatory tarpaulins ordered by GMA's Baguio lackey Helen Tibaldo and paid for by taxpayers.
100 demerits for back row cadet for turning around, distracted no doubt by The Nashman's garish pink umbrella. (Well, it was raining and I borrowed the umbrella from my mother)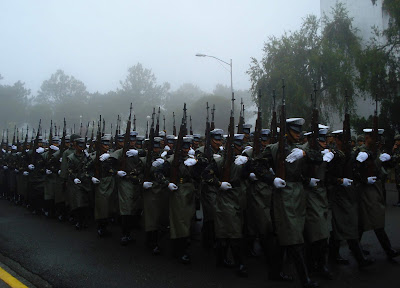 Let's make sulong. Isang hakbang, dalawang kembot.
Ok, I need 300 of you to go man the gates. Don't let the evil Gloria Arroyo in.