We must be awash with money.
President Gloria Arroyo's local Baguio lackey Helen Tibaldo orders the uglification of Baguio City by spending taxpayers money on the printing of tarpaulins congratulating themselves. To be plastered all over the city, as if the local garbage is not enough.
Hindi ba malaking kagaguhan ito? It's like writing your own biographical entry on Wiki.
This government is either shameless or stupid. Or both. At least we know our Information Agency, headed by Helen Tibaldo, is following dear leader Gloria Arroyo's lying ways.
Salamat Pangulong Gloria Arroyo Mula sa Urban Poor na nabawasan ang Pondo dahil ginagastos sa mga kalokohang tarpaulin na walang katuturan at pawang kasinungalingan.
Helen Tibaldo should resign because this is MISInformation at the taxpayers' expense!
Agbain tayo met bassit ah
.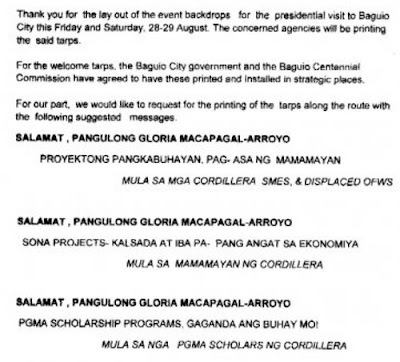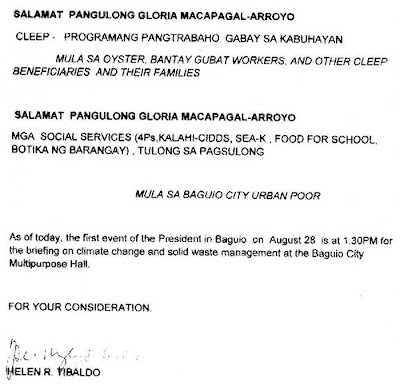 See
kababain
article
here
. Helen R. Tibaldo should be nominated for National Artist in Misinformation.
Tama na, sobra na yang puro kasinungalingan sa gobyerno.