The Nashman spent days sniffing around Baguio for pine nuts and parmigiano but could not find any. His Royal Orangeness Karl Willem and PA/PR Gromit, however, convinced The Nashman to make do with what are locally available.
So, the dawgs proceeded to instruct The Nashman to make local pesto sauce using traditional methods.
HRO Karl Willem and PA/PR Gromit present our cheap locally sourced ingredients. The native basil was grown by Nuns
(so this better be good bitches or The Nashman will burn your CICM convent and drag you, screaming in your habits, into hell)
, the garlic we thinks is actually from Taiwan because it is ridiculously large and not as flavourful as the petite ones from Ilocos but it will do, then the walnuts, cheap olive oil from Turkey, and of course in lieu of the golden mold from Parma, the local equivalent of Eden cheese!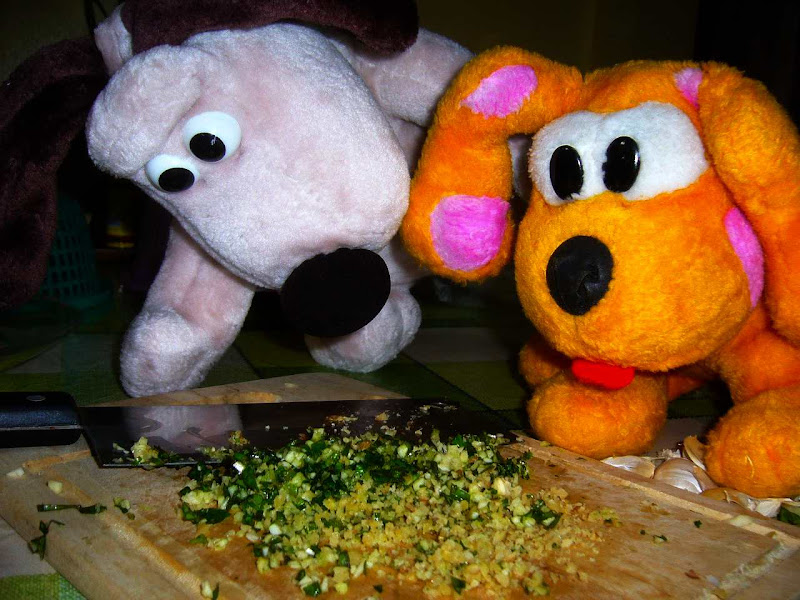 The labour-intensive part of chopping all the ingredients. If you use a fricking BLENDER, it's NOT the real thing! Pesto is chopped all the way! The Nashman had blisters from all the chopping but it's all to make sure the ingredients retain their texture.
The Nashman chopped and chopped, slowly adding cloves of garlic and walnuts into small bunches of basil until we ran out. PA/PR Gromit added freshly ground pepper and then the olive oil.
Of course, to make it more local, we used elbow macaroni which is a permanent tenant in every Pinoy cupboard. As in
pinoy na pinoy.
Besides, it was raining and despite pleas from The Nashman's mom to get penne at least, no one wanted to go out.
The Eden cheese melted but we still got the Basil goodness! And we has enough pistu for a week's worth of
pan de sal
'bruschettas'