"Nunhead"

by Argentinean Fafi Sebastian Faena. I don't know much about him except that he's a fashion photographer and started shooting at 16. These are his photos. They are so holy and mesmerising.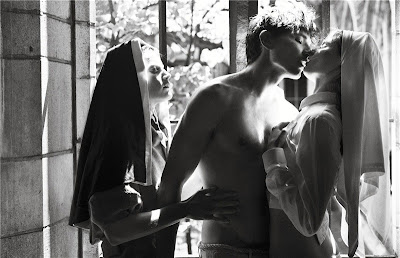 The Nashman's favourite is the 4th photo. It's just
phwoar!
*The Nashman is starting this series on his online diary of photographs/albums that have caught his eye and seized his emotions. As curator
(naks!)
, The Nashman is more interested on the the subject than the photographer - what makes him go
"WTF. Those are nice snaps!", "Potang-ena ang lalim", "Shet ang cute", "Grabe, tinitigasan ako", "Mindfuck!", "How the hell did he do that" atbp....In short, wala sa Indian o sa Pana, nasa kung ano ang tinamaan.
The Nashman hopes to recreate some of these shots using his cheap non-Pinoy Photo forum approved point and shoot camera. Models welcome. Let's do arty farty together!