Wow sir, mamsir, galeng na ng mata niyo sir.

Diay
London Eye, formerly known as the Ferris wheel called the Millennium Wheel, formerly the tallest (now beaten by the Chekwas), is supported by a single A-frame on one side. One of the legs of this frame (the right one) is on property that is rented from the South Bank Centre for
£
500,000/year. It was originally a temporary attraction (5 years) but has become so popular that it is unlikely to be disassembled any time soon. The Eye has 32 airconditioned pods and one revolution takes 30 minutes. There have been 3214 weddings aboard the capsules, and like the mile high club, 415 couples have attempted to have illicit sex. At least one of the security men is Pinoy. It was destroyed by the Silver Surfer but has since been repaired by cheap labour from the colonies. Nostradamus predicted that the wheel will be unhinged on May 17, 2013 to coincide with the arrival of Lord Lucan.
His Royal Orangeness Karl Willem and PA/PR Gromit bring the love leopard Mobutu for an ocular inspection.
It looks sturdy enough.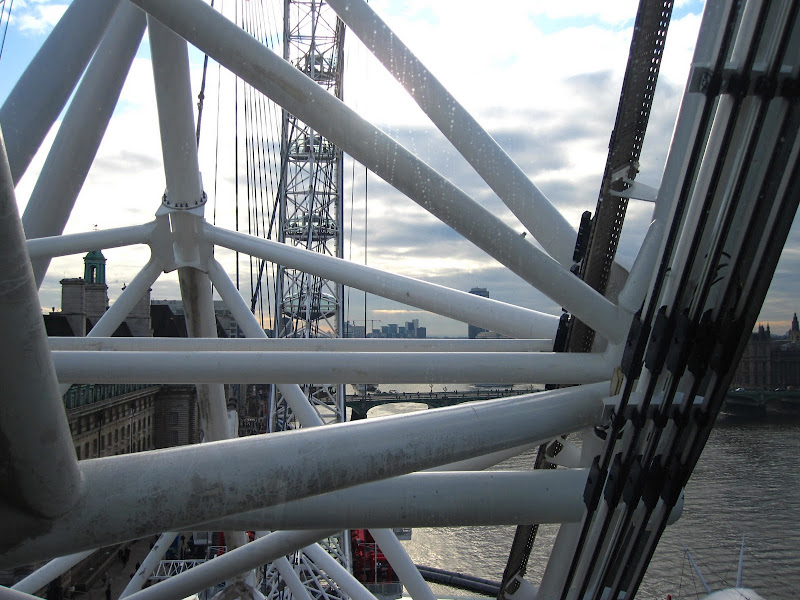 Each capsule weighs 10 tons.
The dawgs enjoying the view, inside and outside.
Each supporting beam is held by Mighty Bond Epoxy.
Looking down.
Looking up.
HRO Karl Willem and PA/PR Gromit with Tiny Ben in the background.
Officially, each capsule can carry 25 but new management Sulpicio Ferris plan to accomodate 1000 people per capsule.
The wheel doesn't actually stop to let passengers in or out. No problem if you are used to riding the Aurora Hill/Trancoville jeepneys.